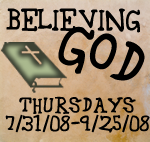 This is week 7 of Beth Moore's Believing God online study hosted by Diane at
Meyers on the Hood
and me. Diane is doing this week's main commentary, so please go visit her when you're finished here.
Diane and I agreed that this week's homework stretched and sobered us. I did not particularly enjoy looking back at certain periods in my life, but understanding that we often function out of what we remember or what we've repressed (what has influenced us) is an important step in healing and getting out of cycles of fruitless behavior. So I did all of the homework, as uncomfortable as it was. However, I will say that the discomfort led me to a very sweet time between the Lord and me.
The main and most encouraging idea I gleaned from this week is that for God, "remember" isn't the opposite of "forget;" it is His acting on a covenant or on behalf of us. Over and over in scripture, examples of God's children beseeching Him to "remember" them is ultimately a cry for saving grace. That resonates with me.
That is why the song, "Your Grace is Enough" written by Matt Maher and made popular by Chris Tomlin, kept going through my thoughts:
"Remember your people, remember your children, remember your promise, O God ...."
In an interview, Matt Maher said that those words are not insinuating that God forgets us; those words are for our benefit.
And so I included that song here. I believe they can help us through this sad anniversary date. I am also reminded of the verse, "O our God ... we do not know what to do, but our eyes are on you" (2 Chronicles 20:12). Remember how our eyes were desperately on Him that day and the days that followed? May we stay focused on Him even when the enemy is not so tangible. May we remember Him!
Psalm 30:5
For his anger endureth but a moment; in his favour is life: weeping may endure for a night, but joy cometh in the morning.
Life is a mixture of rejoicing and mourning. I labored all night for my first child, but oh, what joy she brought in those early morning hours! So each September 11, while I grieve with our country, I also quietly rejoice on the anniversary of the date that God blessed me beyond my dreams with the sweetest little girl.
Twenty-two years ago today, Kaylin Diane was born. When she began to talk, she could not say "Kaylin," and what she did say sounded like "Tatie," and that stuck. I still love "Kaylin," but "Katie" fits her spunkiness.
Here she is at 3 1/2 and then this summer, below.
I never know what to say when people blog about their kids' birthdays, so don't feel you have to comment. I think it's just hard for mom bloggers not comment on the days that changed our lives forever.
She is my pride and joy, and I love her with all my heart. I hope she always remembers that whatever happens in life, His grace is enough.