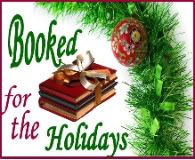 I'm excited to announce a special holiday giveaway hosted by my good friend and "co-Lid," Linda at
Mocha with Linda
.
Many of you already know that Linda loves Christian fiction and devotes much of her blog time to introducing readers to new releases and old favorites. She does pithy, concise reviews without giving the books an immediate endorsement simply because they're written by believers, which I appreciate.
Regarding her giveaway, Linda says,
"I've read several books lately that have really grabbed me, and I want to share these with you. These are not books that I've been asked to promote or review. They are simply books that I have either just happened across, eagerly anticipated because I have read other works by the author, or found in some other way."
She's beginning the giveaway tomorrow, November 17, and will continue each week thereafter for at least four weeks.
You can grab the button at her site and put it in your sidebar to help spread the word, if you'd like.
And can I just say, don't miss her other posts, either. If you enjoy the off-kilter humor here, you will soon find that you Ken Lee Lid #2. Visiting her is just another chance to have coffee with a Lid!