First matter of biz: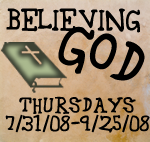 I'm heading over to Diane's today at
Meyers on the Hood
to see what she picked up from Beth Moore's Believing God online study ... you come, too! You don't have to be signed up, you know, to read and comment. Please join in.
Second matter of biz: Thank you all for your comments yesterday about what wall "treatment" (that's what we pros call it) I should go with. It just goes to show that it truly does take a village to help me make a decorating decision. And, as my husband has pointed out, isn't it a totally female thing to do--to get on your blog and ask other bloggers for their decorating opinions? Can you imagine a guy doing this? No. They still do not ask directions. GPS devices nearly emasculate them because it's like they're accepting advice--usually from a woman's voice. And that is reason #4,738 I'm glad I'm not a man: I can ask a bazillion women how I should decorate one wall in my home and feel just great about it, thank you very much.
Biz #3: Alert reader Cindy of
Notes in the Key of Life
pointed out that yesterday, I mistakenly called Dark Shadows' Barnabas Collins "Barnaby Jones," which is a giant mistake because you can
clearly
see that one of these men is from the 19th Century. Well, OK, you can
clearly
see that one of these men is angry and vengeful. OK--the guy with the mood ring? That's Barnabas. The guy with the sour puss? That's detective Barnaby Jones, aka Jed Clampett, aka Buddy Ebsen, who was originally cast as the Tin Man of Oz, but since he was deathly allergic to the suit, they gave him the boot, and he had that sour look on his face forever after. The last pic is of Bobby Sherman, who, in my 8 year-old estimation was the only man on the planet tough enough to put Barnabas Collins in his place. Bobby sure looks tough, huh. Did you ever write a letter to a famous person? (Not necessarily to ask one famous person to beat up another famous vampire person, of course.) Let me know who you wrote to, and then go say hi to Diane.