*EDIT: Yes, I did the wrong week. I told Diane something like this would happen, not to trust me, but what did she do? She went right on and trusted me. This will teach her.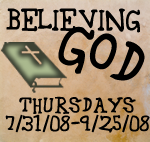 Honestly, this was a challenging week within this study for me. Good, but challenging.
Healing is something I think about on a daily basis.
Sometimes I feel as if I'm studying the issue of healing/miracles like I would a prismatic ball, holding it up to the light, slowly turning it, trying to understand all of the facets, the hows and whys, of healing. Because after all is said and done, even when people such as Lazarus are dramatically healed, they must pass away at some point.
And yet, love compels us to ask, "Please heal my loved one." And Love has permitted us to
" ... come boldly unto the throne of grace, that we may obtain mercy, and find grace to help in time of need"
Heb. 4:16. We certainly have ample scriptural precedence for requesting healing.
Here are two "facets" of my prism that I think about often. I know that you don't know these people, but the reason I'm writing about them is to report to you what God is miraculously doing in their lives, proving the validity of 2 Corinthians 12:9:
But he said to me, "My grace is sufficient for you, for my power is made perfect in weakness." Therefore I will boast all the more gladly about my weaknesses, so that Christ's power may rest on me.
Facet 1: I have posted a couple of times about my friend
Diane
who has cancer, unknown primary source (CUP) and has been given a discouraging prognosis. Curiously, Diane seems to have been transformed through her challenge. Because I don't want to discuss the specifics of anyone else's life on my blog, all I can say is, she actually seems happier now than she has in years. She just exudes joy, and I'm telling you, it's the real deal. I'm blown away by how strong she is in spirit and faith and how loving and tender she has remained. There is no bitterness in Diane. She has a great sense of humor. She blogs regularly on CarePages, and you can feel her joy leaping off of your monitor and wrapping itself around you, which is no surprise, since Diane is a hugger.
Will God eradicate her cancer? I don't know. I know that he can indeed do that. We just don't know if he will. Beth Moore said that it's better to err on the side of belief than unbelief. But if he doesn't heal her, he is still good and trustworthy. His fingerprints are all over Diane. When I am with her, I promise you I feel a distinct "otherness" about her. I know, I KNOW this is the Holy Spirit of our good God on his precious daughter. If he does not eradicate the cancer, I believe, like Beth said, he has something greater for Diane in that case. But I'll not stop asking for fear that he won't answer the way I'd like him to. That conviction was reinforced in this week's lessons.
Facet 2: My cousin's son,
Nate
who "is a 25-year old otherwise healthy young man who has been through a spell of viral encephalitis with residual epilepsy/seizures and Sjogrens Syndrome. He enjoys movies, video games, RPGs, and, of course, spending time with his girlfriend, Erin." - Carepages
One day Nate was a carefree, happy young man in his 20s who got sick. Since that day, his life and the lives of everyone connected with him have changed. It has been long road of recovery, but his recovery is a miracle.
Here are Nate's own words about his trials--prepare to well up with joy and inspiration:
I want to share a word that I got from church yesterday. The reverend was preaching from John 9, and MAN! Did it hit home! I have been asking "Why me?" for the longest time when it comes to these seizures. "Why me? What did I do?" Wrong questions to ask! What can I do with what has happened to me? In fact, when it comes down to it, if I could change something, I wouldn't now. He has it in His plans. The other night, Jesus came along and put mud on my face. I'm sure no one likes it to have mud put on their face. But He did put mud on my face, and then said, "Go. Speak with your dad." That was probably one of the hardest things I have had to do in the longest time that I can remember. I came back with my eyes opened, and I am the same person! Just like the blind man of John 9, Jesus put mud on my face and told me to go. I went and had my eyes opened. Now I wait to see what He has planned for me. I can't wait to go back to work so I can marry the most beautiful woman that is in my life. I do pray that God will take these seizures away, but I know He will use them somehow.
-Nate-
I am praying for God to take away the seizures, too, Nate, but I'm blown away that you can also ask him to use them for his glory.
Touchpoints from the homework:
*"Believers are in desperate need of a fresh infusion of faith." This reminds me of my other friend who must receive iron infusions. Oh that we would see the need to regularly receive fresh infusions of faith!
*"God of Wonders" has been a popular song for a few years, and I'm reminded of what "wonders" truly connotes--inexplicable, marvelous, difficult to understand or fathom, miraculous.
*"Christ gave no time qualifier when he said, 'Everything is possible for him who believes' (Mark 9:23)."
*Believers in the Third World continue to report miracles, visions, dreams. I knew this already from our contact with missionaries, but it was good to read it here, as well. God will reach whom he wishes. He used dreams in the OT; he can use them today, as well. He can use any venue that he wants to touch people.
*I'm praying that if God does not grant the requested miracles I pray for, that he will grant greater ones.
How did this study touch your spirit this week? Please leave a comment or let us know you've written a longer response at your place.
Believing God with you!