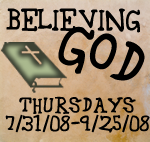 What you say on your blog can come back to you, ladies.
This week, I received an email message from Diane of
Meyers on the Hood
:
I have now seen a couple comments spread around the BloggyWorld where you mentioned you might want to/should probably do the online Beth Moore "Believing God" Bible study. I want to/should probably do it, too. If you sign up, I'll sign up.
I said that?
Yep. More than once. But as far back as January, I
posted
about being the last lone wolf who had not joined a Beth Moore study. As a result, no one has
ever
called me a Siesta.
What someone called me, instead, relative to my lack of Beth Mooreness, is "Penultimate Coolness," which is the same as saying, "Almost Cool But Not Quite." In fact, here is my favorite comment after that post from none other than Missy of
It's Almost Naptime
:
You are way too cool to not have done a Beth study. Seriously. That is the ONLY thing holding you back from Ultimate Coolness. Right now, you are Penultimate Coolness.
I think she and Diane are right. It's time. And besides, "Siesta" is way easier to say than "The Penultimate Coolness."
Anyway, several of you commented after that post that I was not the last lone wolf, that some of you, too, had not participated yet.
If this is you, and you would like to join Diane and me in this online study, here's a little sumpin' we cooked up that might make your eyes narrow and the fur on the back of your neck stand up.
Every Thursday for the next nine weeks, Diane and I will take turns posting about that particular week's lesson. While we Diane and I totally
Ken Lee
each other, it would be awesome to hear from you about what you took away from that lesson and how God is moving in your life and circumstances.
You know, it would be like Diane and I are the wolves who howl first at the moon, and then you howl in response, and then we howl in return and so on, until the sun comes up or someone shoots us. Fun!
We are
so
excited about doing this that WE GOT A BUTTON.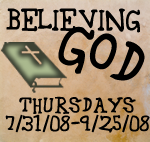 You are welcome to copy our "Believing God" button and put it on your own blog so that others can join in on this journey of faith-building. Kind of like adding to the fold. But not the sheepfold, for heaven's sake, because then we'd have to eat them.
Sound fun? Sound like an adventure that God might want you to be a part of?
In that case,
sign up
and do your first week's lesson [watch a video, fill in some blanks] then meet us back here this
Thursday, July 31
.
We'll be here. Even if it's just the two of us.
[Please
don't let it be just the two of us.]
And now, this video doesn't have anything to do with Beth Moore or Diane or Missy, except that Missy is a child of the '80s, but here is Duran Duran with "Hungry Like the Wolf," which kept blaring in my head as I wrote this post. Maybe all Simon really needed was to join the Beth Moore online Bible study, "Believing God."
*Button designed by one of the most patient women in the world, Lindsay, of
Splat Designs
. Thanks!