First of all, today (every Thursday) is "Believing God" day with Diane at
Meyers on the Hood
, so go see her. I'm going to!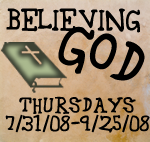 Coming Soon: My take on "Mama Mia" starring a cast of hundreds, and no, that's not the average age of the cast members, but close. It's actually 55.
My RL friend for whom we had the
benefit
, Diane, also seen in these pics, loved the movie and wanted to see it again with all of her girlfriends, as many as could make it.
So, my Girls Group, consisting of the women I meet with every Wednesday night for deep philosophical discussions (formal debate style) jumped at the chance to go with Diane because 1) They ALL L-O-V-E musicals 2) They LOVE Diane 3) They wanted to see me HATE the musical. Because for me, musicals are like one long Neil Diamond song.
So here are a few pics from last night, and one from the benefit where Diane and Madelyn are actually on stage singing "Dancing Queen," which, the whole world knows by now, is on John McCain's playlist. He's diggin' the dancing queen. Aren't we all.