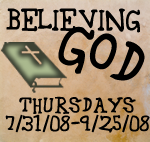 Please visit Diane at
Meyers on the Hood
for today's official commentary on this week's lesson. Remember--you don't have to be signed up or committed to every week to join in the discussion.
Briefly, here are some ideas that spoke to me:
*Depth before Breadth. God desires a deep relationship with us. Whatever service or leadership comes after that is the breadth, and he will take care of that. I think that takes some of the pressure off of us to always be looking to be "blessed," or in other words, have our "territory" enlarged as far as ministry and service go.
*Three common denominators of the vital church:
1. Shield of Faith
2. Sword of the Spirit
3. Prayer
For me, probably the one that is practiced least in a pinpoint precision, faith-filled way is the prayer component. I think I have been afraid God would not answer prayers the way I prayed for them to be answered, and I didn't want to be disappointed. But since this study began and through some events unfolding at church, I am beginning to see prayer anew again.
*God is "roaming" to and fro over the earth looking for individuals whose hearts are for him because that is where the refining fire in the church is. Ironically, I had just read Job's story this week, wherein Satan says he has been roaming the earth, implicitly conveying that he was looking for individuals to destroy. I just thought the juxtaposition of the phrases within one week for me was interesting.
*Beth Moore also talked about the mustard seed of faith, and ironically, again, I had just started reading a book called "Mustard Seed Faith" this week.
*Beth's admonition not to fall for fear and discouragement probably resonated most with me. She says that although Satan cannot know our thoughts, he can observe and hear us, and thus, he knows our weak points. She says that he asks, "What is it that she [any one of us] fears she is?" and then he "sets out to confirm that fear," and then we buy into it.
Do I fear that I'm inadequate?
Do I fear that God doesn't have much of a plan for my life?
Do I fear that I'm not a good enough wife/mom?
Do I fear that I'm failing God?
Do I fear that I'm hypocritical?
Do I fear that I'm inferior?
Yes, I do. And there's more. But what's new to me now is knowing that when I'm tempted to think negatively or let fear creep in, I can be aware that Satan is hell-bent on convincing me it is unarguably, irrevocably true. But as my pastor has said many times, "The truest thing about you is what GOD says about you." And if I should forget what God says about me, I can read his love letters in the Bible.
I hope you enjoyed the study this week. We're half-way through already!