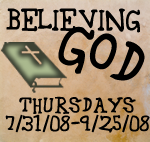 Well, here we are at week 8 out of 10 in the study. I want to thank all of you who jumped on board with
Diane
and me. This is deep, serious stuff; I hope you can sense that you're growing through all of the lessons, as I do.
The basic text for this week's study is Joshua 4-5, where God brought the Israelites around to beginning a new relationship with Him. At this point in Israel's history, the freed but wandering people have now crossed the Jordan river and set up 12 memorial stones for posterity (chapter 4). Then, by God's directive, they were "wounded" (circumcised) and healed, employing a physical action to symbolize a spiritual event.
Joshua 5:9 says, "Then the Lord said to Joshua, 'Today I have rolled away the reproach [censure, shame] of Egypt from you.' So the place has been called Gilgal to this day." The word Gilgal means "circle" and sounds like the Hebrew word for "roll."
I get it! Stones, roll, circle,
circumference
of a body part ... "Gilgal" is a turning point.
Why the focus on Gilgal in this study? Like the Israelites, many of us have our own personal Gilgals which can bolster our faith as we rehearse what God has done for/in us.
BM said that "The way He takes one of us full circle doesn't have to seem significant to anyone else. If it's significant to you, it's significant to God."
How do we define our own Gilgal moments?
A Gilgal moment is when we realize that:
~God has forgiven us and no longer condemns us (has rolled away our reproach).
~God has helped us to make a clean start and helped us be victorious over something that once ensnared us (has healed us).
~God has taken us full circle in some facet of spiritual growth. (We memorialize [testify to] what God has done and give thanks.)
Each day, BM shared several biographical sketches of modern giants of faith who began with small, unremarkable, even unfortunate origins and humbly accomplished great things for God's glory. She recalled each man's Gilgal experience.
The common denominator in these men's lives was a sold-out commitment to God and active, unyielding faith, believing that:
~God is who he says he is.
~God will do what he says he will do.
Sound familiar?
Part of the week's study included breaking our own lives into fifths and looking at each era to see what pivotal events happened, who influenced us, and how we were affected by those events.
Since the years from 32-36 or so were difficult for me, I dreaded re-visiting that time because I felt ensnared by a stronghold and was pretty miserable. But today, I do stand up straight to boast in the Lord because he brought me out of that pit.
Here is my boast, expressed in Psalm 94:17-19:
Unless the Lord had given me help, I would soon have dwelt in the silence of death. When I said, 'My foot is slipping,' your love, O Lord, supported me. When anxiety was great within me, your consolation brought joy to my soul."
He is indeed "my glory and the lifter up of my head" (Ps 3:3).
I liked Beth's observation: "I believe sometimes the emptiness around us can echo a single voice all the louder." I know that God heard me in my distress. I know that I'm in a different place than I was ten years ago. I believe that was my Gilgal.
Questions to think about:
Is there a pivotal moment in your life when, from your perspective now, you can see that God brought you full circle?
If you are in the midst of a trying time right now, can you believe God--that he is with you and is about to do a new thing in your life? Are you expecting the waters to be rolled back and your reproach to be rolled away?
Finally, all this talk about stones rolling brings to mind that glorious, miraculous moment when the stone was rolled away from Jesus's tomb. Because of that resurrection power, we can trust in all five major faith statements of this study:
1. God is who he says he is.
2. God can do what he says he can do.
3. I am who God says I am.
4. I can do all things through Christ.
5. God's word is alive and active in me.
I'm believing God--because he specializes in rolling away the "stone" of death [literally, in resurrection, and figuratively, in strongholds and burdens] and in rolling away reproach. And for this, my heart is full of praise and gratitude..