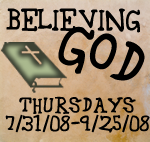 Diane from
Meyers on the Hood
and I welcome you to week 6 of Beth Moore's
Believing God
series.
This was my week for
Believing God
. That is, this week's videos and lessons spoke to my heart most pointedly and poignantly so far.
At the end of video segments 4 and 5, I was so deeply moved that I planned to view those again. If these were the only concepts during this series that touched me as they did, they were worth the registration fee and the time invested.
Some of the lessons this week were inspiring, and some were convicting, but as Beth Moore said in day one's homework, "Whenever we are confronted by a hard truth, God's purposes are always redemptive."
Here are some points that I want to remember from this week:
*God's words are omnipotent, and while ours are not omnipotent, they are potent. (Makes sense, since we're made in His image.)
*By example and exhortation in scripture, we are encouraged to speak what we believe. God desires not only that His children believe truth but also that we speak it: "I believed; therefore I have spoken" (2 Cor. 4:13).
*Because of past abuses of "Name It and Claim It" ministries, the contemporary church downplays the truth about the power of our words and prayers to build up, tear down, move "mountains" and move the heart of God.
*[God] can intervene in the split second it takes for a word to travel from our brains to our tongues and stop it before it leaves our mouths. God can also sanctify our minds—our unparalleled battlefield—where every word originates.
*As we read scripture (hopefully, memorize) it's like we are inhaling God's word. When we speak that word, it's like we're exhaling God's word. [More about that at the conclusion.]
About praying out loud: Most of my adult life, I have preferred silent prayer to audible prayer. When I pray aloud, I become conscious of the words I'm saying and all that that implies. Maybe I can't come up with the right word, but my spirit knows the word. It's not a problem when I'm silent, but when I'm trying to articulate my thoughts, my halting speech becomes a problem for me.
Or maybe I suddenly lose the moment and wonder what somebody else thinks about my choice of words. Or maybe I've forgotten a prayer request among several which have been named. Aside from technical difficulties, audible prayer has felt more like a corporate ministry to me than a private one. After all, what is more intimate than someone hearing/knowing my very thoughts? I felt that silent praying was special between God and me, and in a way, it still feels more significant to me.
So I've always been curious about those who pray aloud as much or more than they do silently. Do you prefer to speak your prayers? Why or why not?
Interestingly, Beth said that "some of our most explosively powerful praying will be aloud."
She pointed out that "while one earth, Christ possessed the power to do anything He wanted. He could have thought people to wholeness, and they would have been healed, but he didn't. He used his mouth and spoke healing." And of course, God says he spoke the creation into being.
When I pondered why God/Jesus used audible language to do their "work," I could only think that their words served as a testimony or witness to the event.
But what about us when we are alone—there is no one to bear witness—except ourselves and perhaps … our Enemy. Ahhh. This perspective makes me realize that praying scripture out loud is a powerful force in our own faith and in spiritual battle. So I think I'm going to be begin praying out loud more often in private.
There was so much good this week in learning to bless others through praying scripture and in renouncing negative, even evil, words that have been spoken to/about us, and she referenced The Prayer of Jabez as a possible example of this kind of redemptive prayer.
Finally, I want to return to 2 Cor 4:13, where the word spirit can also be translated as "breath" or "wind."
We having the same spirit of faith, according as it is written, I believed, and therefore have I spoken; we also believe, and therefore speak;
I want to live, as Beth said, on the "CPR of God;" I want to breathe in his energizing, life-giving word to quicken my spirit, and I want to exhale life-giving words of blessing to the world. I cannot do that without His help, I know.
This segment called to mind MW Smith's "Breathe." May God's word be the air I breathe, my daily bread. May I always be desperate for Him.
What did you enjoy about "God's Word is Alive and Active in Me?" Remember, you don't have to be registered or doing the entire study to comment.
The Winner Of
Mustard Seeds
by Lynn Coulter is #5, Barbie, of
Just Barbie
. I hope this book is as much of a blessing to you as it was to me, Barbie!